The well-being of children at d'Auvergne School is of paramount importance to us, as we recognise that this is vital to have in place if children are to get on with the important business of learning and play.
Children are offered many opportunities in class to develop positive self-esteem and learn about their emotions, however sometimes a little extra time and support is needed.
In order to provide this, we have a Well-being Lead in place, Rachel Maguire, who supports the teachers in monitoring well-being across the school and providing interventions when they will be beneficial.
We are also lucky enough to have trained ELSA's (Emotional Literacy Support Assistant) in school, Mrs Huelin, who works directly with children in groups and 1:1. An ELSA is a warm and caring person with a wealth of experience. They support and encourage children in areas such as friendship, problem-solving, loss and bereavement, self-esteem, as well as understanding and managing emotions.
Rachel Maguire
Well being / Designated Safeguarding Lead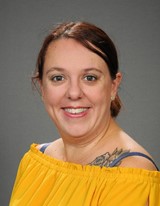 Downloads